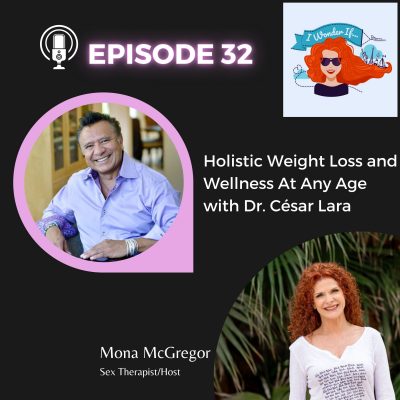 Nowadays, there are multi-pronged treatment methods for every illness, however, a holistic approach is a logical way to go if we desire a sustainable healthy lifestyle. When it comes to weight loss, it considers the many factors that can contribute to a person carrying around extra weight. These alternative healthcare concepts approach health with a deeper spirituality that achieves a more complete and happy existence.
So today dear listeners, we are in for a treat because we are joined by a renowned board-certified weight loss and wellness doctor in Tampa Bay, Dr. César Lara. He has already helped transform thousands of patients through his award-winning weight loss programs that combine the best of western medicine with a holistic and shamanistic focus on the individual.
This episode should be of interest to you as Dr. Lara first shares his "I Wonder If…" moments and walks us through his discoveries which led him to help his patients by looking beyond western medicine, nutrition, and exercise. You will definitely be inspired by this conversation! For all of you out there who have dreams stirring inside of you right now, let's go ahead and listen to how Dr. Lara realized his.
01:24 Dr. Lara's 1st I wonder if 🡨
03:06 The various modalities he unearthed …
04:08 His introduction to shamanism <
04:57 Marrying the old and new practices
08:05 Changing the standards in the medical world
08:54 The biggest challenge? 🡪 MINDSET
10:22 The story of the caboose …
12:16 Don't have access to your own self-love? Look inward! Make your story be the key.
13:37 The fight or flight response
15:05 A safe space to release and let go
15:46 Here's another strategy <<
16:40 How social media affects it all <
18:18 Each expectation differs in various levels and ages
19:14 Yes, we only see what we wanna see!
19:53 Allow the process … scary, but very hepful!
20:32 On karma and energies …
21:16 Shaman tools, processes, and rituals Dr. Lara use <<
22:53 What we give attention to is what grows
23:54 Remember, everything that we're experiencing on the outside is a reflection of what we're experiencing inside of us.
24:35 The invisible world vs. The visible world
25:12 Just like a dysfunctional relationship …
26:28 Appreciating who we truly are to be able to recreate ourselves
27:09 The Philosophy of Oneness
28:57 Approaching andropause and menopause transitions
29:45 What are bioidentical hormones?
30:49 On the level of sexual functions …
31:39 Learn about your bodies, explore!
32:40 The Tantra Philosophy
33:41 Education plays a big part in sexuality
36:53 Giving people permission … Decrease the shame
37:33 Hey, the ability to have an orgasm is in itself healthy!
39:08 Begin to love yourself and explore
40:42 Dr. Lara's wellness rituals <<
42:11 The Wim Hof method of breathing
43:45 Yoga 2x a week will keep you flexible
45:22 Have a visit at The Fire and Stone Shamanic Healing Center soon!
46:32 An introduction to various shamanic philosophies
47:15 If you are called to come, visit the healing center very soon!
48:36 Dr. Lara's next I wonder if for The Fire and Stone Shamanic Healing Center
49:52 Experience various modalities including Reiki, Qigong, and Tai Chi
52:00 The Inca philosophy
Reach out to Dr. César Lara and find out more about his consultations here:
● Website 🡪 http://bit.ly/40dAmLB
● Facebook 🡪 https://bit.ly/3HmkEVD
Can't get enough of really, interesting I Wonder If stories from around the globe? Subscribe to I WONDER IF podcast and ride shotgun with me as we hit the road, set sail, and fly away to meet some of the most interesting people that dare to wonder…
How can you support "I Wonder If" podcast?
● Apple users, please subscribe and review the show on Apple Podcasts, yes they are all given attention! Android users, please be sure to subscribe to the show on Google Podcasts so that you don't miss any of the action.
● Share your favorite episode on social media and don't forget to tag us @iwonderifpodcast.
● Connect with us on social media: IG: @iwonderifpodcast FB: IWonderIf
● Get on the list so you don't miss out on announcements, programs, and events. Go download your favorite guest's interviews HERE.
Learn more about the Host, Mona McGregor:
● Do you enjoy exploring some yoga techniques and hypnosis events? Go check these ones out 🡪 EVENTS! EVENTS! EVENTS!
● For couples, do you find yourself wondering how to improve or spice up your intimacy and sexual affairs? Go book your first free consult HERE 🡨
● Looking to find someplace to crash and enjoy your "couple" or "me" time? You might find THIS PLACE matches your taste for comfort.
● Can we really use hypnosis to gain weight loss? Join us to find out! Start your journey HERE.
Can't seem to find the previous episode? Click here to listen >>> The Healing Power of Hypnosis, with the World-Renowned Professional Hypnotist and Comedy Stage Entertainer Richard Barker, Ep31