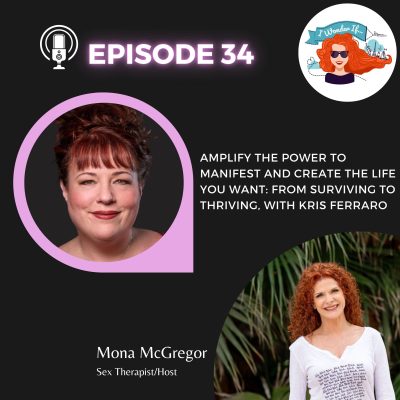 Have you ever thought your dreams into reality or thought you did? It's like attracting your dream into your life and fulfilling your desires. But do you know that you need specific energy to implement those wishes? The power of manifestation is conceptualized as the idea that simply envisioning what you want in life through your mind's eye can lead you to create your life's reality.
You're in for a treat in this episode because YES, you can! That is what our special guest, Kris Ferraro will share with us today. She's the author of the book "Manifesting: The Practical, Simple Guide to Creating the Life You Want", and also an international energy coach, teacher, and sought-after speaker. And she says, yes! We definitely can move from merely surviving to thriving individuals.
I know a lot of you wanted to know how and wanted help with several areas in your life where you want to invite that positive energy flow so let Kris open up your mind and heart as she takes us to her "I Wonder If…" where she chronicles the choices that led her to help people create their ideal life NOW. So come on, let's go ahead and listen to this episode now!
01:11           Kris' I wonder if moment starts here 🡨
04:06          What does it mean to manifest?
07:14           But can we really manifest for other people's good?
08:48         Each of us has that power of creativity within us…
09:37          This is the best way of having a positive influence <
10:54          Start within and with who we are
11:55           A story of the Chinese farmer …
15:03          Here's a personal story of Kris to inspire you to believe there's a good reason for everything that's happened
18:08          Surrender and just trust the process!
19:20          On manifestations with regrets and learning better …
23:38          Every single thing that we want to manifest is because of how we think that manifestation is going to make us feel
24:07          Thinking hard – is it really what you want?
24:56          The tip of the iceberg <<
25:48          On expectations and disappointments …
29:13           A different kind of gratitude journal <
31:05          Create happiness NOW in our lives!
32:25          Why there is power in group work <<
34:27          Do you know that loneliness is more dangerous than smoking??
35:25          Various energy healing techniques out of traditional Chinese medicine
36:56          Because people have been disconnected for so long a time! 
38:01          Coming from a place of real sincerity and love letters 
39:53          One of Kris' greatest teachers 🡨 
43:28          Here are Kris' go-to affirmations or prayers < 
44:36          Yes, Kris has her current I wonder if cooking!
45:53          "Your Difference Is Your Strength" …
48:05          Another case of instant manifestation 
50:38          You never know how quickly and easily something could come into place
51:13           It's a journey you never stop doing – manifest and create!
Reach out to Kris Ferraro and find out more about her services and consultations here:
Grab her first book on Energy Healing HERE!
Can't get enough of really, interesting I Wonder If stories from around the globe? Subscribe to the I WONDER IF podcast and ride shotgun with me as we hit the road, set sail, and fly away to meet some of the most interesting people that dare to wonder…
How can you support "I Wonder If" podcast?
Learn more about the Host, Mona McGregor:
Can't seem to find the previous episode? Click here to listen >>> Helping Health-Conscious Women Love and Forgive Themselves, Their Food, and Their Figure, with Marcella Friel, Ep33