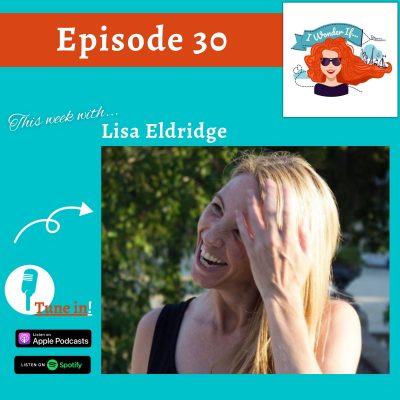 Solo female travelers nowadays are inspiring female empowerment so all you conscious travelers who want to know more about the ins and outs of this adventure, you better tune in as we plan on embarking on a trip by ourselves and prepare for a life-changing experience we can only get by challenging ourselves to travel solo around the world.
So today, we are with an empowered woman who cares about the world and writes an award-winning solo female travel blog – Girl About the Globe – Lisa Eldridge. She shares the stories of her adventures with us, having traveled to 109 countries solo! This episode couldn't be more exciting!
"I Wonder If"… well wonder no more because yes, you can girl! You can travel the world solo and also make a difference while enjoying the adventures of the unknown. Lisa has all the information you'll need plus more so let's listen to her stories and how she was able to come up with such an idea to help all our solo female travelers around the world. Come, let's go right in!
01:07          Lisa's I wonder if, is this <<
01:33          Everything that we've done in our life has prepared us really for what we're doing now
02:29          The start of her blogging adventures
04:10          All the negative feedback while starting her solo travel adventures
05:01          The uncomfortable situations are where the most growth happens
07:16           Building that needed muscle over time …
07:55          So anxiety can equal excitement =
09:32          From beach budget to luxury tours to nightlife to nature, Lisa's blog on travel guides is there for our consumption
11:58           A conscious travel menu for feasting!
14:13           When she started raising awareness of the human trafficking issue all over the world …
16:50          Lisa also had her share of challenging moments during trips <<
18:34          Coming out of these obstacles may be as simple as this <
19:33           A moment of kindness may be all that we need!
20:33          … And moments of empowerment
23:23          The perks of being a solo traveler ß
24:11           On meeting people and creating relationships …
24:54          F-R-E-E-D-O-M  √
25:45          Were there moments of loneliness too??
27:07          On the upside <<
29:24          Curious about how Lisa earns while traveling to various destinations? Listen here!
30:50          From Columbia to Barcelona …
31:32           And here's how she got free things back then
32:39          Her income streams while traveling (can be yours too, come to think of it!) So, yes you can!
36:06          A solo female traveler's dating situation isn't easy
37:05          Changing the dating game over time
39:21           … and this is where it gets interesting!
41:09          Taking a step back …
42:30          A great love vs. a great friend or a great companion
44:24          On to Dubai, a buffet of great opportunities!
46:13           Lisa's next I wonder if
Reach out to Lisa and find out how to help her cause here:
Can't get enough of interesting I Wonder If stories from around the globe? Subscribe to I WONDER IF podcast and ride shotgun with me as we hit the road, set sail, and fly away to meet some of the most interesting people that dare to wonder…
Can't seem to find the previous episode? Click here to listen >>> Sharing A Hidden Treasure For Travellers In The Middle Of Tuscany With An Artist, Amazing Chef, And Proprietor, Candida Bing, Ep29