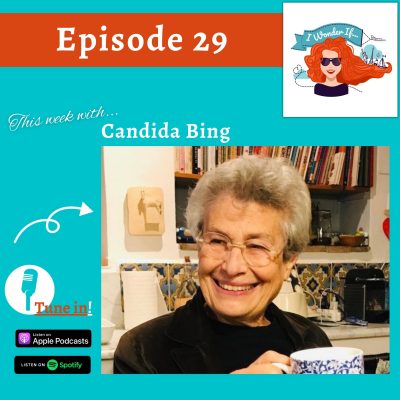 Rarely do we find these days a 17th-century refurbished farmhouse made open for the enjoyment of guests and be a private oasis for travelers alike. A house full of wonderful stories and a Tuscan garden owned by a very special woman who succeeded in working in a man's world, creating hats. This little bed and breakfast sits on top of a local vineyard, 3 minutes from the local town of San Casciano.
Now, this episode is a must-listen-to especially if you are to visit Tuscany, Italy, and its nearby tourist spots and local town. Let us get to know Candida Bing, a painter, jeweler, garden furniture dealer, amazing chef, and proprietor of this amazing bed and breakfast.
Those "I Wonder If…" moments shall surely run through our thoughts in this episode as we virtually tour Candida's Chianti House and listen to her wonderful stories. She considers her bed and breakfast to be a very peaceful place and she loves to cook for her guests using her homegrown garden ingredients so it is truly a treat to share dinner with this very talented and successful woman so come, let's go right in!
00:50         Candida's I wonder if story starts here <
02:39          Completing her collections in her Tuscan garden
 05:27          Candida's cooking classes
 06:22          The reason why plants, flowers, and everything came easy for Candida
06:57          The story behind her priceless molds <<
08:38         Their hats were worn by some of the most important people, take note!
09:41          Candida's been influenced more so by her creative artist side
10:46          She contributed to fashion during her time as well!
12:07           Been painting and designing jewelry too? How talented can she be?!
13:00          Candida's next I wonder if …
14:03          Lots of good, old memories kept to be shared
Reach out to Candida and find more about her private oasis here:
Website à https://www.candidabing.it/
Can't get enough of really, interesting I Wonder If stories from around the globe? Subscribe to I WONDER IF podcast and ride shotgun with me as we hit the road, set sail, and fly away to meet some of the most interesting people that dare to wonder…
Can't seem to find the previous episode? Click here to listen >>> Reawakening The Power of Sacred Intimacy: Ignite Your Desire For Mind-Blowing Sexual Intimacy and Everlasting Love, with Londin Angel Winters – Ep28