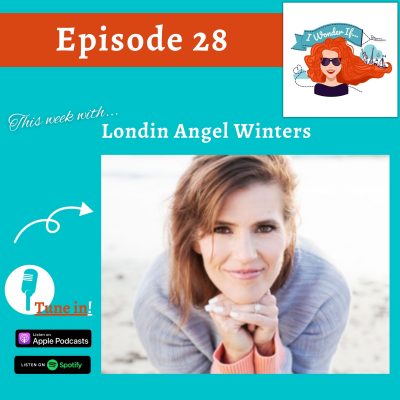 It is reputed nowadays that sexual intimacy is an important part of marriage and partnership. Not only is it very beneficial to one's overall health but when used in a sacred manner, it becomes one of the ultimate expressions of our divine nature that is within us. It activates the power, blessings, joy, and energy for couples and unlocks the endless source of love for each other.
Dear lovers, you have to tune in to this episode and get to know the author of this magnificent book titled, "The Awakened Woman's Guide to Everlasting Love", Londin Angel Winters. She's a teacher and practitioner of Sacred Intimacy, together with her partner Justin who both founded the Yoga of Intimacy.
This episode will surely give us "I Wonder If…" moments, for all you lovers out there who desire to improve your relationships through the activation of mind-blowing sexual intimacy strategies. You will definitely love this conversation! I hope this will remind all of you that we and our partners don't need to wait for love to grow with us because we need to create that love and trust on a daily basis. Let's go right in!
01:16           Londin's I wonder if moment uniquely started here …
03:47          A very meaty book on the "Awaken Woman's Guide to Everlasting Love"
05:12          A revolutionary approach on the Alpha and the Omega
07:25          When the seer meets the feeler ❤️
08:26          True Alpha is the one that witnesses beyond self
09:20          Just the perfect bite!
10:04          The merging of two bodies into one …
10:48          Here's a simple strategy to hit the right button <
11:36           With sacred intimacy, you do not need to be in the mood for it but you have to start
13:02          The Omegas need to do this ß
14:12           Creating sustainable passion over the years takes hard work
15:23           How breathing helps <
18:06          In yogic terms, how do the three pillars provide the stretch and release?
18:55          On spirituality and sexuality …
20:57          Next up – polarity <<
22:06          And who wouldn't want hot sex all the time?!
22:45          The third pillar of the three-legged stool – D-E-V-O-T-I-O-N
24:40          The trap of building those bricks on the yoni wall
27:20          Oh my, where did my libido go?
31:00          The story of a couple and the power of choice <
32:22          How has motherhood shaped the purpose of Londin's work?
33:04          The parents yearning for deep f@!k commitment
34:12           This is what happens to parents once they become parents <<
35:10          The primary polar forces are at play
35:58          Dedicated yogis on each step to prioritize intimacy
36:54          A radical shift to gift parents
38:02          The A-ha moment!
39:14           Watch out for Londin's 2nd book coming up!
40:09          Know what to look forward from Londin's retreats ß
41:23           Focusing on the subtle body …
42:19           Your sexual energy is your life force energy
43:27          Curious to know Londin's hottest date night with Justin?? Listen!
44:11           And this was the most surprising so far, guys take note of this!
46:58          Devotion = generosity
48:02          Londin's next I wonder if << (a sneak peek)
49:21           Getting that sense of empowerment
50:16          Do not wait to be loved, just bring the LOVE!
50:59          So when is the 2nd book coming up?
Reach out to Londin and find more about her retreats here:
Can't get enough of really, interesting I Wonder If stories from around the globe? Subscribe to I WONDER IF podcast and ride shotgun with me as we hit the road, set sail and fly away to meet some of the most interesting people that dare to wonder…
Can't seem to find the previous episode? Click here to listen >>> The Badass Women of Zagreb…Mavericks, Disrupters, Change-Makers in Zagreb, with Iva Silla – Ep27