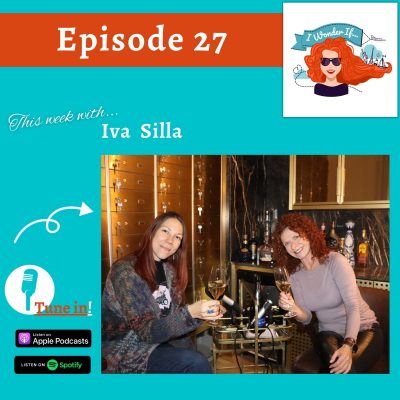 How often does one hear about women in history who are considered game-changers and who've made their mark in their respective countries? Turns out, there really are inspiring women who have walked the streets of Zagreb. We will know all about these in a tour that is a perfect blend of history, entertainment, and humor. A scavenger hunt of women's influence in Zagreb history.
You have to tune in to this episode and get to know Iva Silla. The woman behind this brilliant storytelling tour idea of Secret Zagreb, and hear stories about women who believed in themselves and their talents and pursued their dreams. We are here in the beautiful and historic city of Zagreb in Croatia.
This episode will surely give us "I Wonder If…" moments, on various ways to preserve a country's culture whilst making things fun. So if you're badass or curious about some notorious badass women in Croatia, you will love this interview. I hope this will remind all of you to hold tight to your grit and determination in the pursuit of your creative desires. Let's go in!
01:55          Iva's "I Wonder If" story starts here
02:54          The birth of Secret Zagreb
03:32          A scavenger hunt tour!
04:20          The start of the Badass Women tour <<
05:40          A mix of inspiring and interesting characters like Croatia is!
07:40          Here's Iva's favorite badass woman and her story <
10:09          The first free climber in Croatia! 
12:11            Hear the one worst part of Dragula's sexual experience in her journals 
13:25           A platonic love that didn't bloom well …
14:28          Stefania Vidačić – the heartbreaker!
16:23           The story behind the boudoir photographs
19:26           The crazy 1920s – Josephine Baker story
20:14          Why Pepita Bekerita?
22:00          Iva's journey to her badass collection of stories
23:34          Croatia's first female driver <
24:31           Raising daughters to be strong and courageous as well 
25:12           A rare and attractive tour inspired by passion and interest
28:16          Empowering women to be a disruptor! 
29:39          Fierce Women – bringing strong Croatian characters into life
32:08          Iva took the I Wonder If challenge so stays put!
33:08          What's so special in Zagreb city? 
34:13           Superpower Zagreb – hear their collection of awards 
35:56          Croatia's Christmas story of the gold sticks 
39:49          Tune in to Croatia Underrated – the podcast! 
41:58          Part of the badass woman of Zagreb? Iva answers <
Reach out to Iva and find more about her tours here:
Website à https://secret-zagreb.com/
Facebook à https://www.facebook.com/SecretZagrebWalks
Instagram à @secretzagreb
Can't get enough of really, interesting I Wonder If stories from around the globe? Subscribe to I WONDER IF podcast and ride shotgun with me as we hit the road, set sail and fly away to meet some of the most interesting people that dare to wonder…
Can't seem to find the previous episode? Click here to listen >>> The Power of Connecting Passion with Purpose: Aligning Your Heart and Dreams, with Lea Čumbelić, Ep26