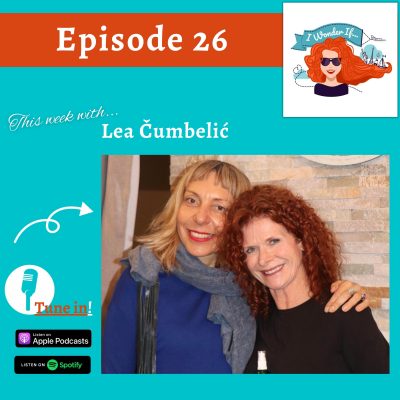 Are you aware that finding our sense of purpose help us readily realize our interests and passion and make our dent in the world through positive impact on others' lives? The world is always opening new doors of opportunities and so we have to embrace and inhale every bits of it even if it sometimes throws us off crazily into certain situations like this pandemic.
Tune in to this episode and let's get to know Lea Čumbelić, a magnetic woman who will remind us to prioritize our health and self care whilst being fearless in the pursuit of living our best life every day. We are still here in the beautiful Island of Korčula meeting wonderful people who dared to wonder.
This episode will surely give us "I Wonder If…" moments, on how we can finally discover our purpose and passion along the way if we are only open to follow the path we are taken to by the doors of opportunities opening for us. You are going to love this interview so tune in NOW!
02:01                  Lea will take us all the way back to her I wonder if experiences in the beautiful island of Korčula…
03:17                  The wine producer guy who made her stay in the island
04:06                  A top quality indigenous white wine – Pošip
05:14                  Lea's journey into being a French tour guide 
07:31                  Meeting fellow pioneers 
09:25                  Being an entrepreneur during crazy times 
11:01                  Dealing with adversity – adapt or die (not literally!) 
11:57                  The abundance of time is a gift during the pandemic 
13:09                  The importance of self-care during these times 
14:24                  Life is beautiful and it doesn't stop! 
16:42                  Being able to take care of the family fruit trees during the pandemic 
17:51                  Inhale all the beauty surrounding us – the birth of Lea's aromatherapy biz 
19:10                  Meeting a leading fit aroma therapist, originally from Zagreb
20:17                  Lea's first order of essential oils and carrier oils experience
22:36                  An unexpected friendship from afar is a gift! 
25:27                  A complete alignment from the universe
26:09                  Launching the aromatherapy quest to help people heal
26:56                  Our bodies are made to move – following the protocols 
27:58                  Reprogramming bad health habits is a challenge 
28:45                  It's only a matter of changing the mindset
31:26                  After the pandemic, there is no way back! Take care of yourself! 
32:35                  Create time and spend it right. Rituals help …
34:19                  Rediscovering oneself to recover 
35:04                  Free yourself from that wrong notion of having that invisible badge of honor
36:23                  Creating inspiration through her aromatherapy calling 
37:15                  Personalized orders and collections make the most impact in the healing experience
38:23                  Lea's go-to oil … 
39:45                  A whole new level of loving yourself better 
40:52                  Self-nurture, self-care, and self-love – through aromatherapy products 
41:47                  A new partnership brewing for Lea 
43:54                  Talk about the best advertising and marketing opportunity < 
45:38                  Hanging onto the legacy of the island and sharing it with other people
45:55                  Watch out for my upcoming retreat very soon! 
Reach out to Lea here:
Can't get enough of really, interesting I Wonder If stories from around the globe? Subscribe to I WONDER IF podcast and ride shotgun with me as we hit the road, set sail and fly away to meet some of the most interesting people that dare to wonder…
Can't seem to find the previous episode? Click here to listen >>> The Broken Road to Mental Health: In Life and In Business – The Story of Sharon Fekete, Ep25