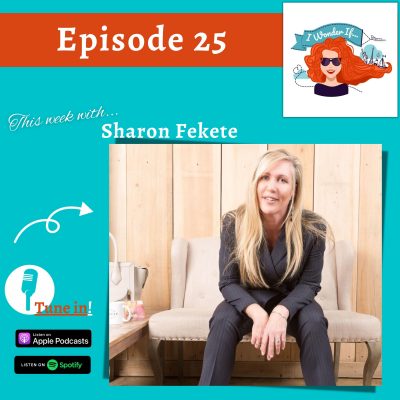 Now is a good time to pause and reflect. May is Mental Health Awareness Month, so we want to make sure we recognize a difficult truth: Nearly one in five Americans lives with a mental health condition, according to the National Institute of Mental Health. Help us #breakthestigma associated with mental health disorders.
Tune in to this episode to raise awareness of trauma and the impact it can have on the physical, emotional, and mental well-being of individuals, families, and communities as Sharon Fekete shares her experience and devotion to increase awareness of the importance of mental health and wellness in Americans' lives.
This episode will give us "I Wonder If…" moments, on various ways to help reduce the stigma so many experiences and recognize a difficult truth especially since there has been a shortage of behavioral health-trained providers in the country. Tune in NOW!
00:37            The founder of Dr. Whisperer is here!
02:20            Sharon's I wonder if story started here ß
05:30            A heart-wrenching step back to the past …
06:20            The decision to just write the book (in 5 days!) 
07:57             Shame avoidance and the road to healing …
10:00            Shame can really keep us very sick!
11:36              Practical tips and rules to live by for Sharon
12:32             Self-awareness is crucial in business!
13:25             The importance of women supporting women
14:51              On comparisons … 
15:57             The role of self-care in mental health 
16:35             Set a routine for yourself, just like Sharon has here 
17:35             Practice good habits in self-care and self-talk
19:33             Nurturing relationships and balancing your career
21:53             Sharon's next I wonder if … 
22:53             A safe space for everybody, post-pandemic
24:11              Check on your strong friends. Reach out to people!
25:47             The Broken Road to Mental Health: In Life and in Business. Get your copy now! 
26:28            You may also reach out to Sharon through the 13th Avenue Media
Can't get enough of really, interesting I Wonder If stories from around the globe? Subscribe to I WONDER IF podcast and ride shotgun with me as we hit the road, set sail and fly away to meet some of the most interesting people that dare to wonder…
Can't seem to find the previous episode? Click here to listen >>> Painted Stories of Romance and Passion, with Ana Kolega, Ep24