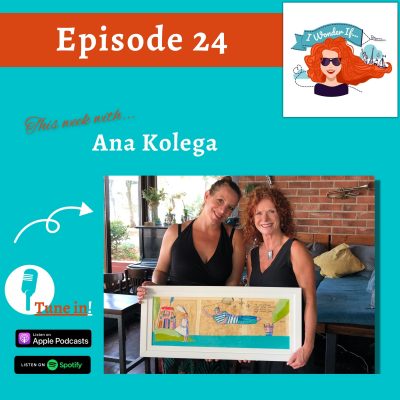 Art often appeals to the senses or emotions and covers a diverse range of expressions from movies, and music, to paintings. With paintings, it captures the artist's creativity and artisan skills. Appreciation and recognition of an artist's work always bring them a sense of pride and happiness.
Tune in to this episode to learn more about the beauty of sharing the thoughts, emotions, intuitions, and desires inside an artist's creative mind through painting as Ana Koleva talks about her pieces and her vision moving forward.
This episode will give us "I Wonder If…" moments, especially in how we share our gifts and talents with the world so sit back, tune in, and let's circle Croatia to discover a talented painter and her works of art in the island of Korčula.
01:13             The story behind the beautiful piece of art discovery
03:33            Ana's I wonder if moment started here …
05:37             Ana's first attempt to sell her paintings
06:26            And then reality hits after studies …
06:57             Persistence is key!
08:26            For Ana, art is the best promotion
09:26            An artist's inspiration
10:31             An artwork's translation – love across the sea
11:32              Ana's mentor inspires her to do more special pieces
12:47             Where else can we find Ana's exhibitions?
13:04             Coming soon in America!
14:03             Enter the passionate Argentinian tango dance
15:25             The word's a part of every painting
16:30             How does Ana get her inspiration to paint?
17:56             The difference between an amateur and a professional
19:22             Ana's favorite island spot in Croatia
20:10             And her favorite country to travel in is …
21:08             Eating out vs. cooking for the family
 22:50            Watch out for Ana's next I wonder if plans in the future!
24:32             Get in touch with Ana directly on Facebook <<
25:36            The struggle to put translations out in English on her pieces
26:26            Other creative works Ana's busy with …
Can't get enough of really, interesting I Wonder If stories from around the globe? Subscribe to I WONDER IF podcast and ride shotgun with me as we hit the road, set sail and fly away to meet some of the most interesting people that dare to wonder…
Can't seem to find the previous episode? Click here to listen >>> Vagina Appreciation Day: A Talk on Feminine Health, Happy Vaginas, and Orgasms, with Dr. Jennifer Hayes, Ep23