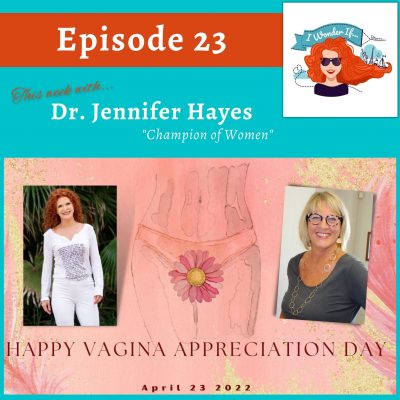 How often do we as women appreciate our sexuality and vaginas? If it has been ancient history for you then today is the day to explore that! Happy Vagina Appreciation Day! For this episode, we have Dr. Jennifer Hayes, the "Champion of Women" who shares HOW and WHY we should appreciate our vaginas.
Join me as we explore the various ways that Dr. Hayes helps women to enjoy their sexuality and connect with a part of them that is so important to their relationships and make us, women feel good again with ourselves as time goes by.
This episode will give us "I Wonder If…" moments too so sit back, tune in, and enjoy Vagina Appreciation Day with your special someone or with yourself empowered with the ideas and discoveries shared by Dr. Hayes in this episode.
01:26             Dr. Hayes "I Wonder If" story starts here …
02:15             Helping women patients feel good again is the goal!
03:03            A moment of healing restoration is all they need
03:50            Finding our safe space is ❤
04:21             Have you ever wondered if you could get back a full quality of life?
06:38            Dr. Hayes think that these are the women's biggest struggle in our culture <<<
08:50            Why women have to feel safe and heard and how does Dr. Hayes address that
09:56            Dr. Hayes' views from a sexual standpoint
10:58            Talk about self-care, self-worth and self-love. Confidence is sexy!
12:41             Regaining intimacy back with your partners! Why it's important <
13:58             A patient in pain
15:45             Dealing with women in painful situations
16:42             Sub-specialty: learning aesthetic surgery
17:27             The magic of ThermiVa!
19:07             Learning about platelet rich plasma (PRP) and its many benefits!
20:39            Even helps with a skin condition called lichen sclerosis
21:53             Enhancing pleasure even as we age? Wow!
22:30            The three different ways that are substantial improvements of orgasms! 
24:01             Dr. Hayes drank the Kool-Aid herself! 
24:22            The O-shot or the G-shot, or BOTH?? 
26:58            A-okay for testosterone pellets too! 
28:01            The inroads that are happening right now offers quality of life throughout our life expectancy
29:16             What are some of Dr. Hayes' self-care rituals?
31:41             >>> You can't just make the vagina healthy and feel good to really be an active sex partner
32:18             Remember: there is nothing about our libido that is simple and straightforward. Women are complex! 
33:23            Supporting our vagina in the same way we support our facial health
34:18             Being mindful and present to be able to experience pleasure in perfect order 
35:42            Talk about some reasons to love and appreciate our vagina!
37:46             Celebrating vagina appreciation day! Perfect way? Orgasms! 
39:54            Let's hear Dr. Hayes' next I wonder If … 
41:05             Learn more about Dr. Jennifer Hayes HERE
Or follow and connect with her on Instagram and Facebook!
Can't get enough of really, interesting I Wonder If stories from around the globe? Subscribe to I WONDER IF podcast and ride shotgun with me as we hit the road, set sail and fly away to meet some of the most interesting people that dare to wonder…
Can't seem to find the previous episode? Click here to listen >>> The Museum of Broken Relationships: Stories of Love and Memories, with Dražen Grubišić, Ep22