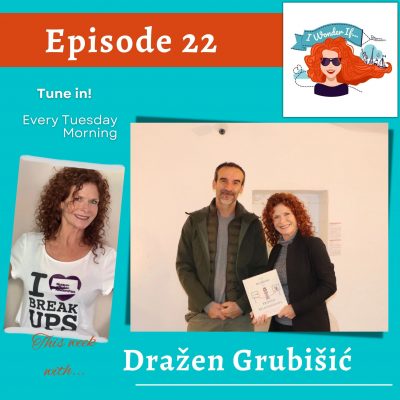 Relationships are magic. They are a part of who we are. We learn from them and we are shaped by our relationships. That is why we are going to learn much in this episode with our very special guest, Dražen Grubišić, the co-founder of the Museum of Broken Relationships based in Zagreb, Croatia.
Join me as we explore the stories of broken relationships inside the museum and discover how a painful experience became a brilliant idea to connect beautiful love stories from around the world.
This episode will give us "I wonder If…" moments so sit back, tune in, imagine and take a look inside the Museum of Broken Relationships at its varied themes and beautiful memories.
00:52 Dražen's I Wonder If moment …
03:00 It all started with the cute, little bunny borne of love
03:40 A storage of memories packed in one object, what to do?!
04:57 A simple, basic idea which later become an exhibition theme!
07:37 An art that evoked a universal emotion
08:54 A lot of I Wonder If moments during the travels for exhibitions
10:06 Mona expounds on the museum being a discovered tool for healing
11:39 A balanced blend of love stories that will make us cry and laugh
13:11 Realizations and a hope for healing springs inside the museum
15:32 Dražen shares how they decide what to put in for a theme out of thousands of stories shared with them
18:05 Setting up an emotional rollercoaster with each room of snapshot stories is an amazing, long process
19:43 Listen to how being a part of this museum changed Dražen's views on relationships
21:05 Remember: Everyone has a story to tell! What's yours?
22:39 Ever wonder if Dražen's ex-girlfriend still share this project with him? Listen here!
23:46 The museum will make us all realize that we don't get to keep everybody for life, but they still come in to teach us a thing or two
24:33 Memories lasts, even stored inside a box to remind us in our old days
25:21 Hear this incredible Second World War love story from an old lady, as part of Dražen's previous exhibition
28:13 What's to love in the city of Zagreb?
28:57 Take note of the beautiful islands to explore in Croatia as shared by Dražen himself
30:55 How about restaurants? Where to go?
32:59 Being an artist, where are Dražen's artworks now?
Share your story online at The Museum of Broken Relationships!
Or follow and connect on their Instagram and Facebook accounts!
Can't get enough of really, interesting I Wonder If stories from around the globe? Subscribe to I WONDER IF podcast and ride shotgun with me as we hit the road, set sail and fly away to meet some of the most interesting people that dare to wonder…
Can't seem to find the previous episode? Click here to listen >>> Klaudio, Owner of Konoba Mondo in Motovun Croatia, EP21