Sometimes finding ourselves takes more than looking in the mirror. Many of us have to undergo a series of internal exploration, external change, and an abundance of effort to truly find our happiness.
In today's interview, Mojca Korcula, shares her journey of becoming a yoga instructor and how life led her to find her passion. She discusses the process she had to experience in order to discover what her purpose truly was and how she emotionally found peace.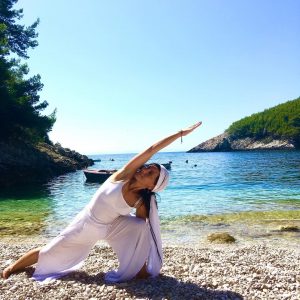 Mojca also discusses her current retreats and the yoga events she hosts on holidays and weekends. Her classes take place on the beautiful coast of Croatia, where she has curated a magical and rejuvenating experience for her guests. To hear more about Mojca's story and the fascinating work she's doing, join Mona in this interview.
Show Highlights:
Mojca shares what it was like to grow up traveling
How Mojca discovered her passion
Mojca shares her emotional journey to finding her purpose
Practices Mojca learned in studying yoga
How Mojca's yoga instructor inspired her to begin teaching
Why retreats are so recharging for women
How Mojca creates an inviting and safe environment at retreats
How is Mojca leading a virtual retreat
The impact of being thankful and letting go of control
The importance of listening to your emotions
Taking time to absorb nature
Appreciating the abundance of natures gifts
How Mojca designed her retreats
Links:
https://www.joy-of-mediterranean.com
https://www.facebook.com/joyofmediterranean