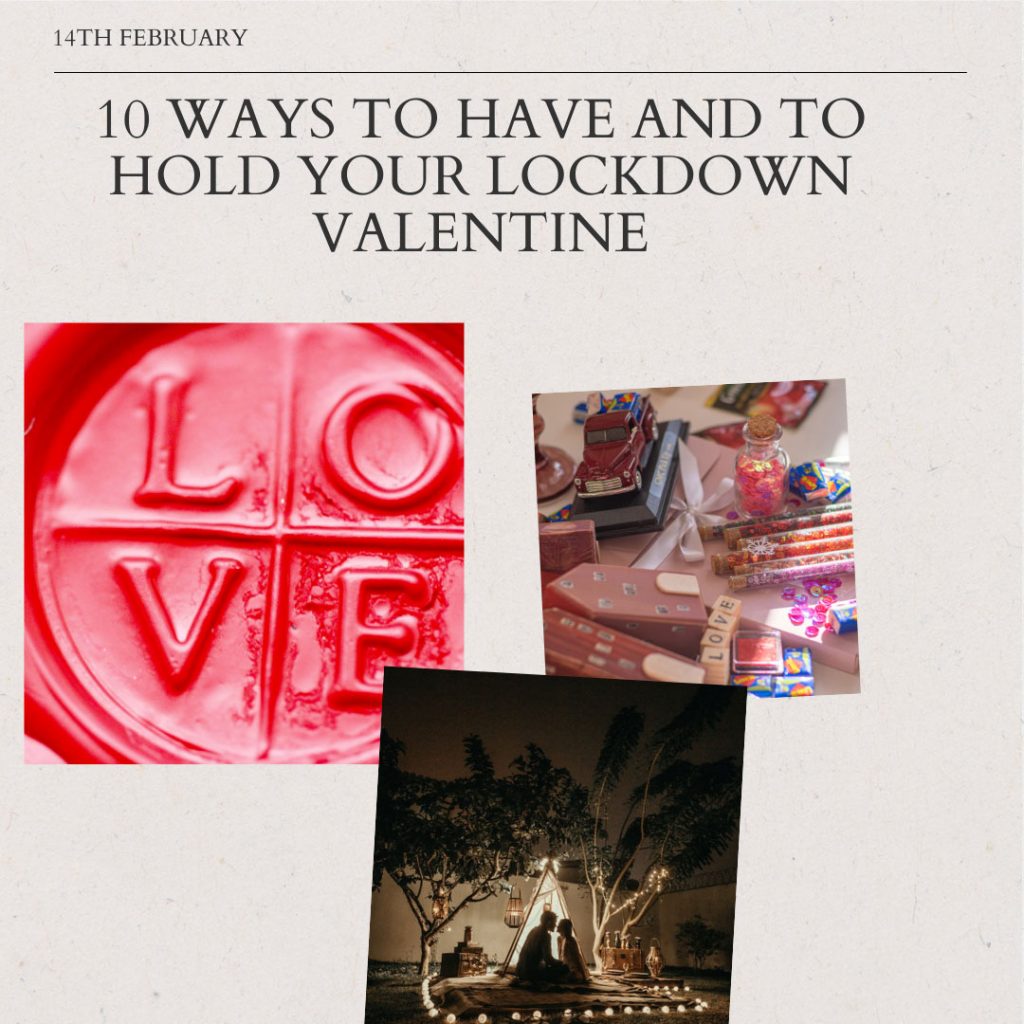 Valentine's Day 2021 | How to Enjoy a Lover's Holiday Date |
Thinking of a Handmade Valentine's Celebration
Cupid's out with his bow and arrow in-hand, and he's ready to grant us all love and romance as we get ready to celebrate February 14th. Yet so many are wondering how to enjoy this lover's day with such a changed world.
With the year we've had, having Valentine's Day 2021 there to dedicate your love to someone and receive that same level of passion and love back, is truly what's needed.
Saying that I love Valentine's Day is an understatement; I'm actually a bit of a fanatic. I adore the chocolate, playful gifts, romantic dinners, champagne, the heart-felt cards and the dozen roses. Ever since kindergarten and the exchange of paper Valentine's cards, I've never been able to keep my love for the annual holiday a secret.
And, with it being a harder year than many with quarantine, limited activities and mental health at an all-time low, I wanted to be able to share ten of my favorite Valentine's Day 2021 ideas with an emphasis on thinking of a homemade Valentine's celebration.
1. Try Thinking of a Handmade Valentine's Celebration of Cards
Not to re-iterate my words too much but focusing on the homemade options of Valentine's day such as cards, paper hearts, chocolates, dinner, hand made gifts and anything else that can come from the heart shows love at a whole new level. It takes away the monetary value of love and instead focuses on the time, effort and dedication of love for your other half.
Growing up, family played a large part in my obsession; my dad would always give me something special, so I knew I was always loved. So, maybe think about how to enjoy this lover's holiday by sharing your handmade gifts with other family and friends that you love, we all need to feel it this Valentine's Day 2021.
2. Create an at-Home Spa Day Retreat
Dr. John Gottman (author of The Seven principles for Making Marriage Work) conducted a little research which found marriages between couples who are rich in shared habits, rituals and traditions were more suited to a long and loving relationship. He found these marriages were less likely to take each other for granted while keeping the positives nurtured.
What better way to nurture the one you love than by creating rituals of an at home spa? Whether it involves running a warm bath with rose petals, a glass of wine and some candles or secretly sharing aromatherapy by giving your partner a sensual massage.
3. Take an Online Cooking Class with Your Favorite Chef
You'll need to start looking soon as these types of online events can get booked up pretty quickly, but they're certainly worth it.
Some of them will send out the exact ingredients in a fancy wooden crate with a bottle of hand-picked red while others may give you a shopping list so you can pick, choose and find alternatives where necessary, so your Valentine's treat are a perfect fit.
Then, you'll begin your online class with the worldly chef of your choice making the Michelin-style dinner right in your own kitchen. From a Mediterranean feast to exotic new cuisine from places like Russia, Egypt, Japan and beyond. Where will you dine on Valentine's Day 2021?
4. Consider Star Gazing in Your Local Park
Some say that Valentine's Day is a commercialized event invented by companies such as Hallmark or a Jewelry chain, but that doesn't mean you have to buy into the day just to appreciate the person you love.
In fact, there's really no need to spend any money at all; you could simply walk to your local park, enjoying the sights, the sounds of nature around you before setting up camp for an evening and watching the stars shoot by.
There are so many apps out there like Sky View Lite and Star Walk 2 which I highly recommend. Looking at the brightest star in the sky and recognizing its beauty is one thing. Yet, being able to point your cell at the sky and understand the constellation, the location and the story of the sky with your partner is a whole new narrative saved for how to enjoy a lover's day date.
5. Go Back to the Good Old Days and Build a Fort
Nothing truly beats it, does it? Heading back in time, hauling together all the pillows, bedsheets and comforters from around the house in order to prop up your own fairy-light lit fort will bring a new level of intimacy between you and your other half.
In fact, some would say that building a fort can become the building blocks to a healthy relationship. Or not; but you will certainly have a laugh trying. You could even take it to the next level by introducing a romance or erotic novel into the fort.
6. Get Close as You Slow Dance in an Online Dance Class
Valentine's Day 2021 is being seen as a chance to reframe the relationship in a way that echoes your unique relationship. It can be used as a reset for romance and a chance to start a new hobby for the both of you to associate with feeling close, loving and playful.
With this, one of the most popular activities of choice is to take an online dance class in the style of your choice. A little bit of Ballroom here, a little bit of Tango there and maybe some saucy Salsa on the side. Create intimate memories that you can look back on, discover new things about your partner or even get your two left feet ready for the first dance on the big day.
7. Netflix and Chill with a Movie Marathon
Luckily, Netflix has announced they're releasing at least one new movie to their platform each week, so you'll have many choices when it comes to a movie marathon.
Netflix and 'chilling' can be a perfectly intimate part of thinking of a homemade Valentine's celebration because it takes away the stresses of expectations and preparation. It can just involve you relaxing on the couch with the person that helps you unwind while maybe – or maybe not – enjoying the show. P.s. don't forget the popcorn!
8. Get Your Game on with a Couple's Virtual Game Evening
Given 2020, there has been a rise in popularity for virtual versions of games we all love to enjoy with each other. One of the best trends at the moment are the escape room and mystery solving games which can be played with friends over Zoom or with just you and your partner.
With Valentine's Day 2021 being a day to truly appreciate those you love; it doesn't just have to be those under the same roof as you. Share some playful competition with family and other couples through virtual games. It can even be with classics such as Mario Kart, just let your inner extrovert thrive this holiday with online enjoyment.
9. Speak to a Certified Sex Therapist About Spicing up the Night
All my clients know just how I feel about Valentine's Day 2021; they've all been getting reminders since the start of January encouraging them to create something new, do something spontaneous and bring passionate feelings back into the relationship. Passion and novelty are exactly what we all need. And I want to share this with you, too. While I may be a little biased in this department, as a clinical sex therapist, I'm often asked about creating new opportunities for connection. If this is something you and your other half are interested in, you should certainly contact a sex therapist so you can start thinking of a homemade Valentine's celebration.
10. Don't Ever Forget the Bubbly
When I say this, I don't just mean getting a bottle of bubbly from the shop and toasting to a day well done. While this is always the perfect excuse to enjoy a glass with your other half, you should embrace this moment of love and consider splurging by thinking of a handmade Valentine's celebration of wine tasting. There are plenty of order-in wine or whiskey tasting experiences giving you and your partner the chance to take a trip around the world while staying in the intimacy of your home. You might just not remember it the next day.
This Valentine's Day 2021, I would love to challenge, nudge and encourage everyone to spend some time making their partners feel special, valued, deserving and desired. I am confident this will feel good for both of you and you'll certainly want to continue to create special moments throughout the year.
As a licensed mental health counselor and a certified clinical sex therapist let me – Mona –help you and your Valentine create rituals of connection and passion throughout the year. Contact me at https://ideallifecounseling.com/contact/, MonaMcGregorLMHC@gmail.com or 727-418-8212.